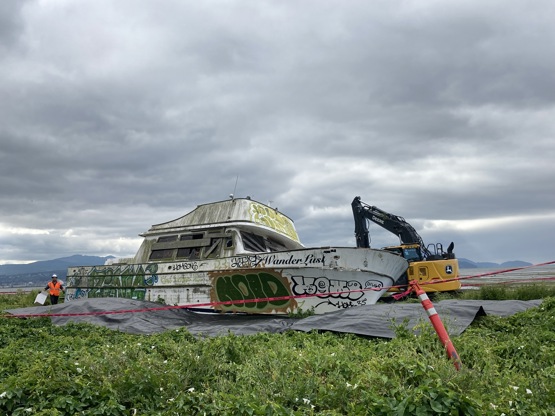 Workgroup
The seven Marine Resource Committees (MRCs) of the Northwest Straits region and tribal partners who work with MRCs, compiled a prioritized list of derelict vessels within their communities where removals are likely to benefit the nearshore and marine ecosystems, treaty rights, and recreation and access.
Funding
The Northwest Straits Commission (NWSC) received congressionally directed funding for 2023, selected as a funding priority by Senator Patty Murray.  The NWSC is working in partnership with DNR through an interagency agreement on vessel removal.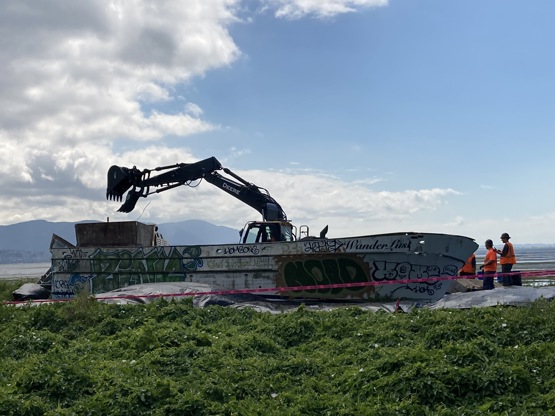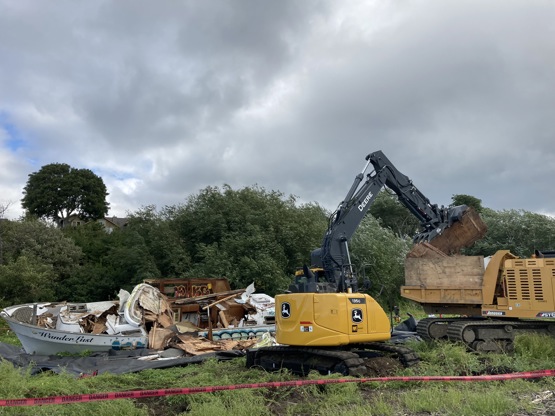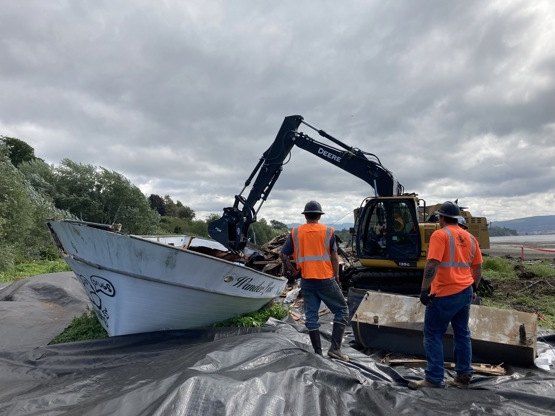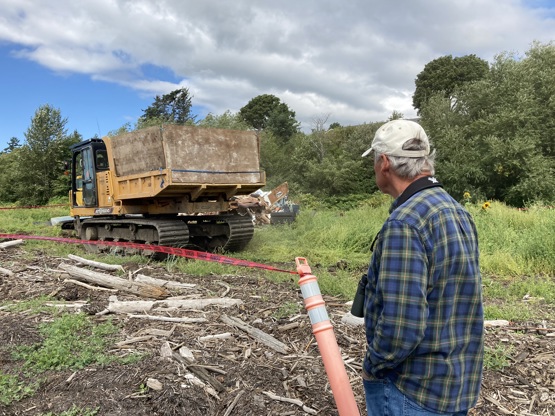 About the vessel:
Wanderlust. 40 ft fiberglass. 1979. DVRP # WC18-008.  Not leaking any fluids.
The Wanderlust was a Coast Guard documented vessel that washed up on the beach of a private property owner during winter storms in 2018. 
Area of interest:
The Wanderlust was sitting upright on shoreline vegetation (mostly woody debris) near the Nooksack River Delta. Prior to removal, the contractor stated that a forage fish survey was to be conducted. There is no known forage fish spawning in this area of shoreline. 
An Asbestos Hazard Emergency Response Act- AHERA good faith asbestos survey as well as survey for lead paint and PCBS was conducted prior to any work.
Removal:
Removal was made possible through the coordination of the following partners:
Northwest Straits Commission
Whatcom MRC
Washington DNR Derelict Vessel Removal Program
Smith Gardens (contractor's staging area)
A land based removal plan was submitted by the contractor and included:
Vessel to be dismantled and removed from beach via excavator and tracked Dump truck.
Area to be covered with 100 sq. ft. of 20 mil pond liner and geo textile for small debris prior to commencement.
Area to be cordoned off minimum of 50' in all directions for safety.
Excavator to travel to and from vessel site one time for demolition.
Barge mats to be used as needed.
Tracked removal vehicle will travel to and from vessel site to staging area two to three time for removal with dumpsters on standby for disposal.
Engine, and all hazardous fluids or materials found to be separated and disposed of in separate containers.
All BMPs to be observed and followed.